Set up a unique supplier profile and showcase your products to brands
Join Sqetch for free

Add your products and create beautiful collections in our Materials & Components Library

Increase the visibility of your company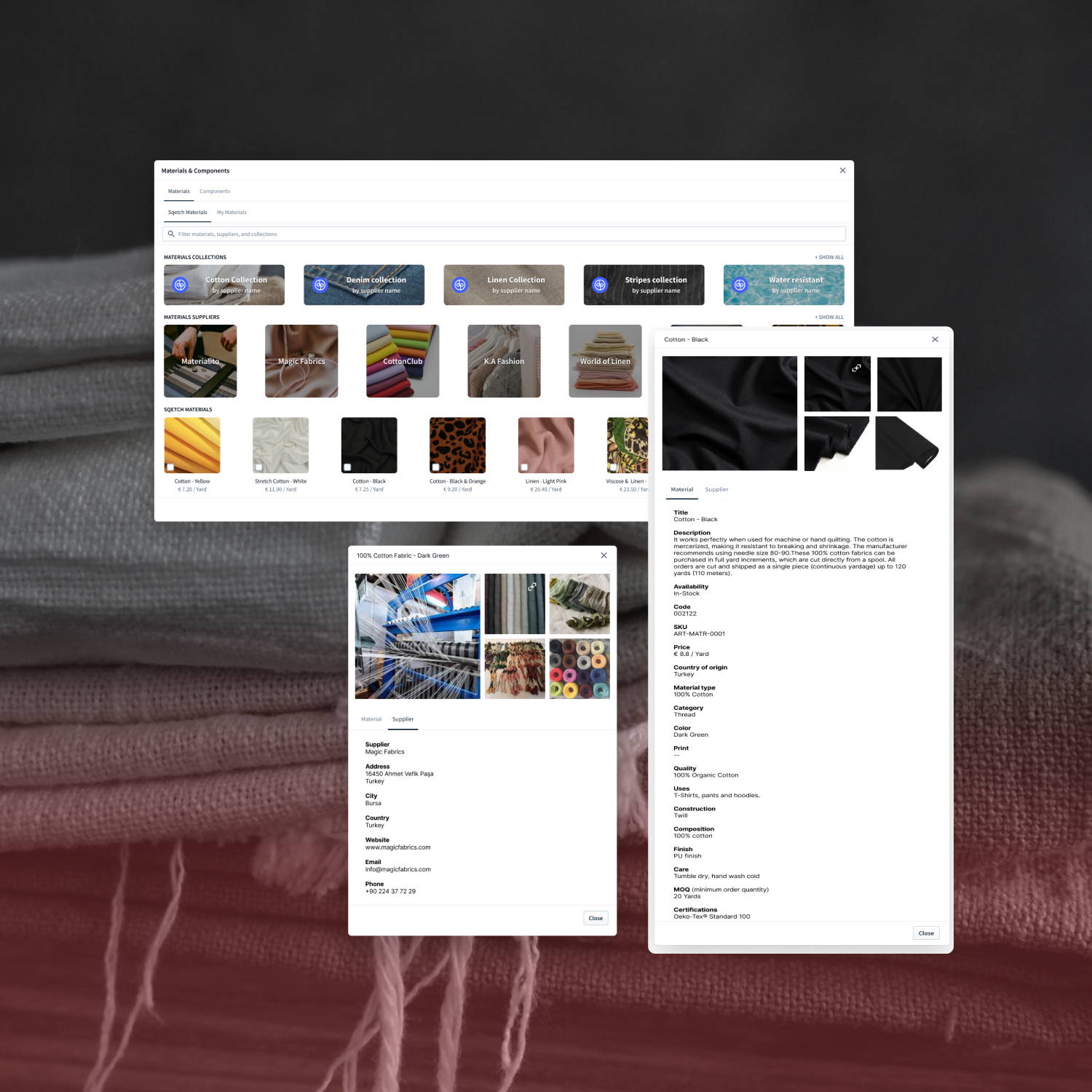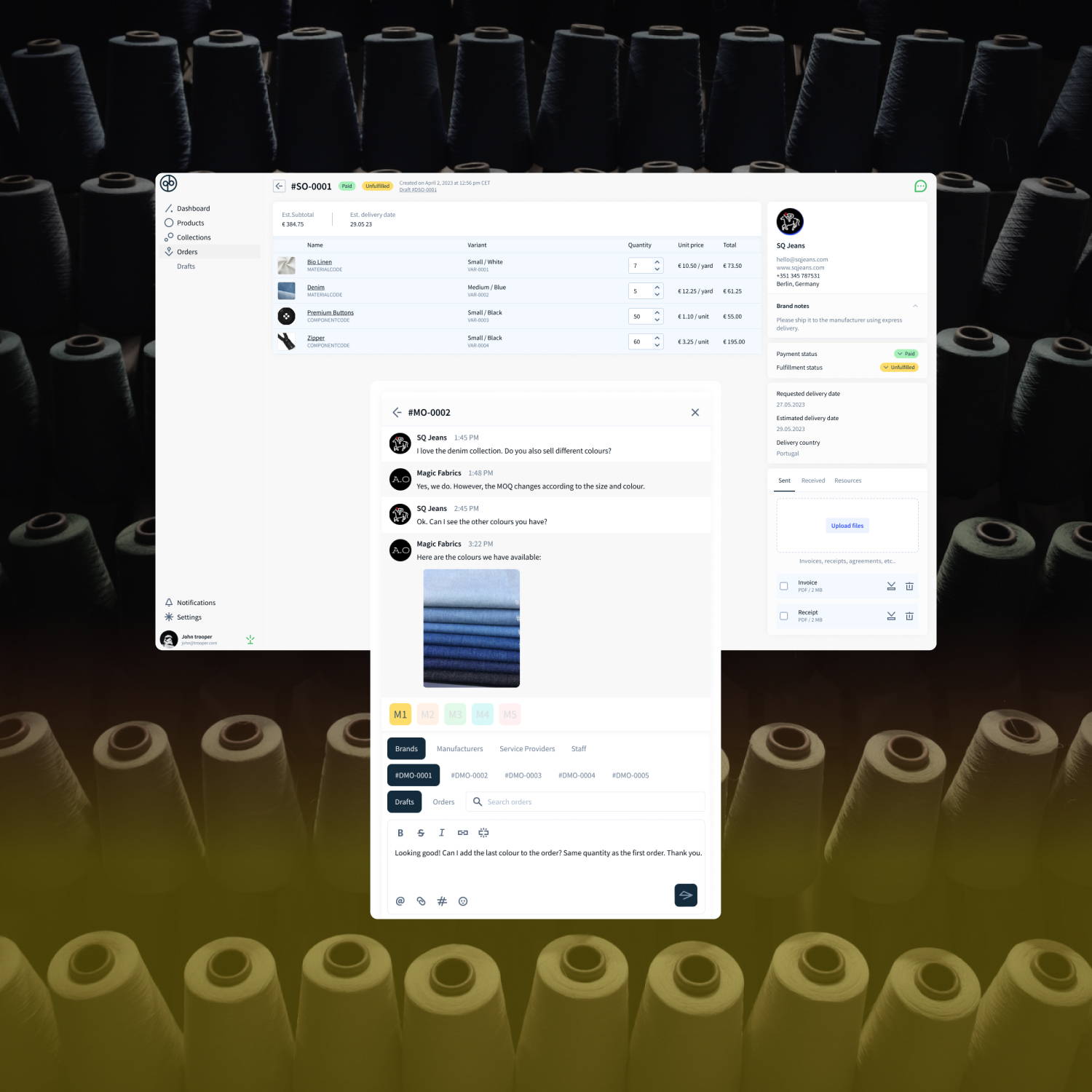 Receive and communicate your order effectively

Create products and variants with agility and organize them into collections

Chat and share contracts, images, and documents with your brands
Manage orders, issue invoices, and get paid by brands directly - no commission
Get an overview of your order and manage your business with ease

Sell your products directly to brands, free from commission charges

And keep expanding your business inside a global pool of fashion players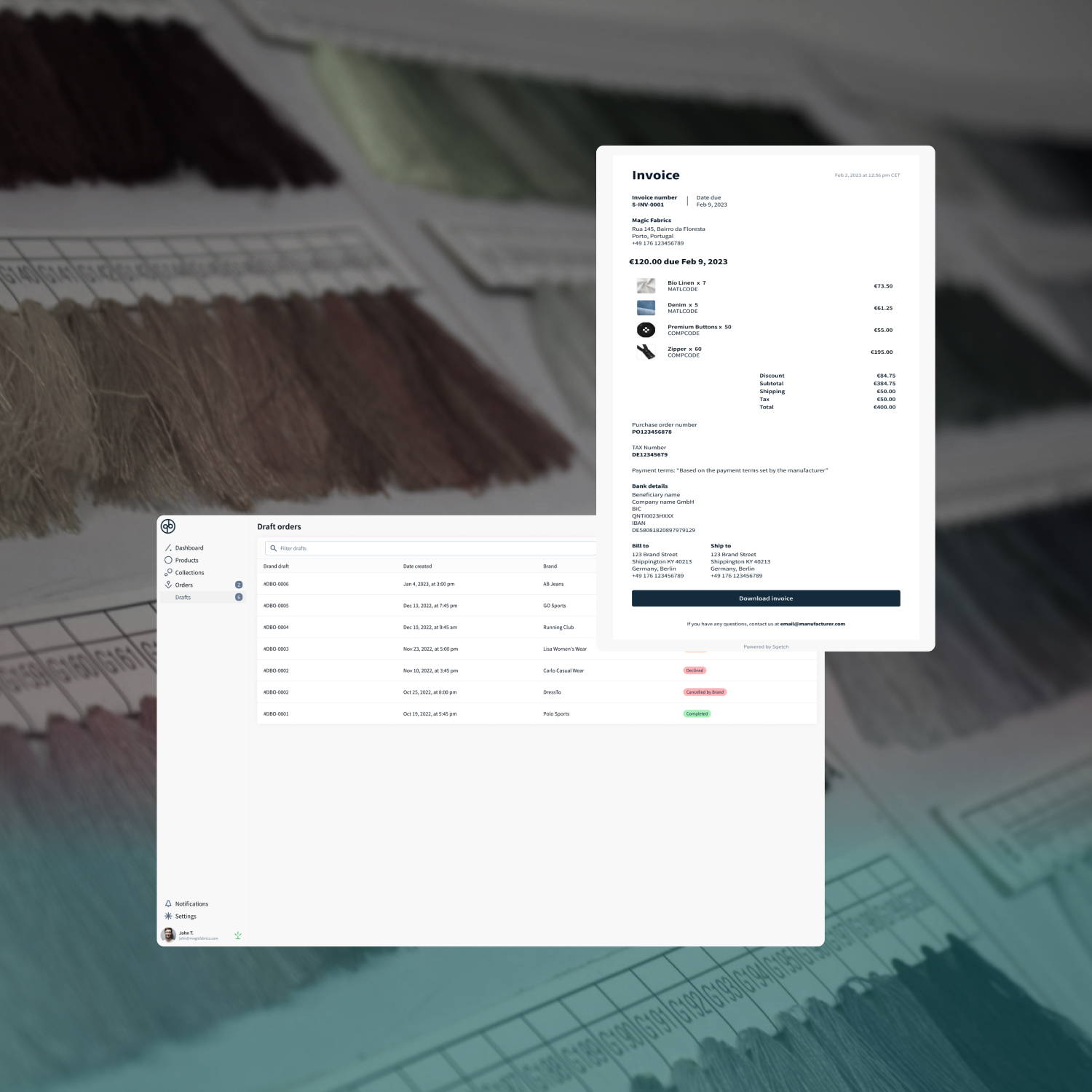 Unleash your full business potential

Get started today and discover how we can help you achieve your goals.
Sell your components and materials on our marketplace.
*Login ONLY valid for suppliers (e.g. sell fabrics or components for fashion production). If you are a clothing manufacturer, please take a look at our home page for manufacturers.
---
A better look at how Sqetch works for the supplier
Brands initiate a project by creating a list of products they'd like to produce. For details, they can add materials and components to their products directly from a curated library of suppliers.
Time to start an order: after providing all the essential info, brands are either matched with ideal manufacturers from our network or bring in their own. The materials are chosen from our virtual library, and that's how suppliers come into play.
Boost your visibility
On Sqetch, you can quickly create your business profile and material collections. Your materials will be automatically showcased in the library that's available to the brands.
Attract new customers & expand your business
When a brand chooses your product, you can invoice them, and they can make the payment directly to you, via your preferred method. We don't charge any commissions.
A complete co-working space
Manage your sales and communicate with brands and manufacturers directly through the platform.
---
Sqetch is built to be the most useful online platform for fashion production.
No borders: our goal is to bring together fashion players from all corners of the world to overcome the obstacles to production that have been rooted in an enormous but disconnected industry, and create more efficient pathways for the future of fashion as a whole.
---
If you are a fashion supplier looking to continue or expand a process of fashion production, enter new international markets, and find a wider pool of clients and partners, then this is likely for you.
We have designed Sqetch for suppliers, manufacturers, and brands of every size, to better communicate and collaborate.
It is an encompassing platform made to be your digital workspace and diversified channel of client acquisition, complete with a portal to a global network of brands and suppliers, as well as the channel of communication between all stakeholders involved in a production order.
*Our team will review your submitted information and get back to you as soon as possible.