202030 – The Berlin Fashion Summit – 3 ed. (Highlights)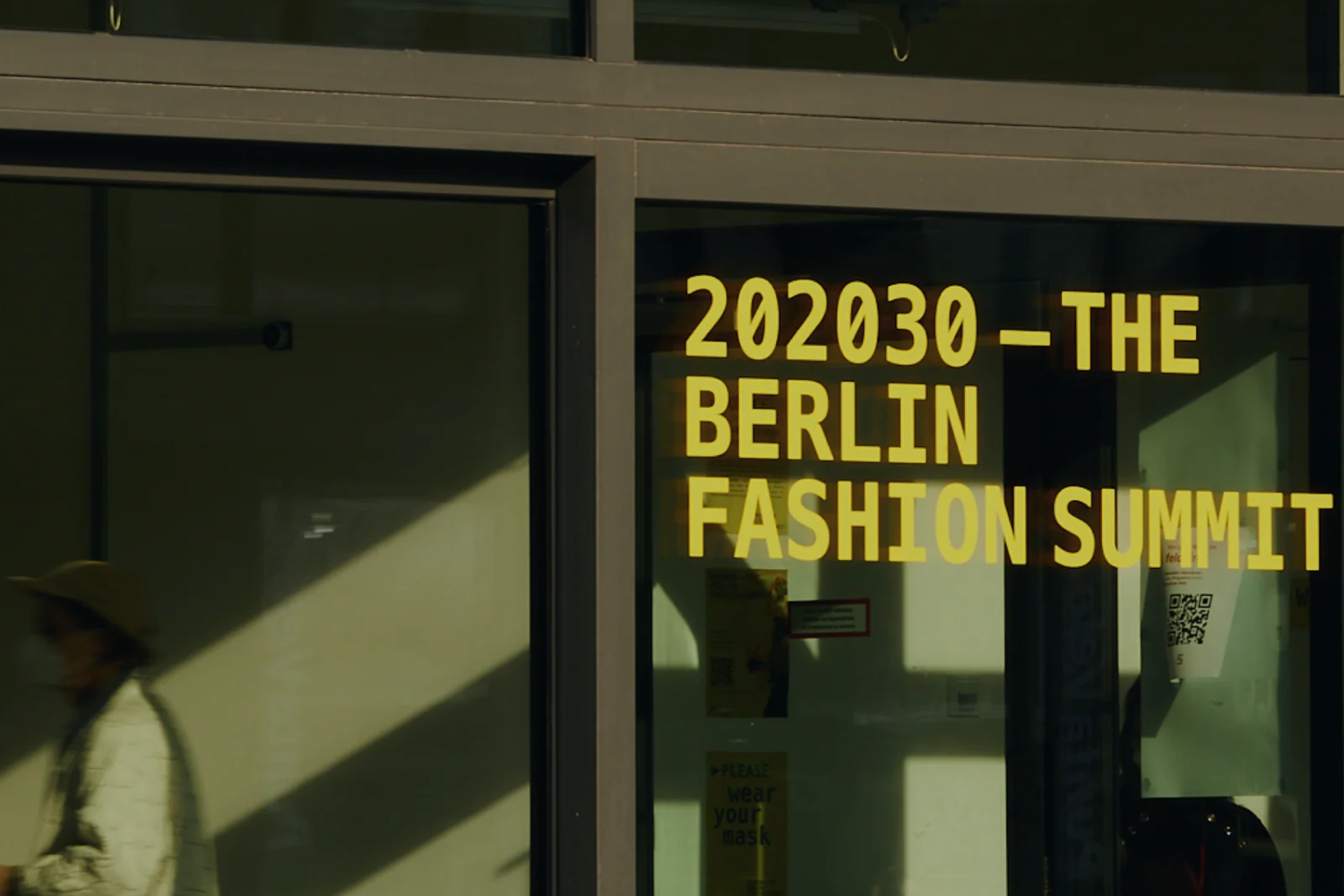 As part of the Sqetch spirit, we are constantly looking to expand our horizons. Next to the matchmaking platform, Sqetch supports innovators to connect with industry partners to scale their impact with brokerage events, showcases and R&D projects. Along with the projects, Sqetch takes part in multiple events that aim to empower the industry members to reach objectives related to business development, sustainability and professionalisation.
In this diverse list of events that Sqetch is involved in, we are proud to highlight the success of the third edition of the 202030 – The Berlin Fashion Summit, which took place on March 15, 16 and 17, 2022. The primary goal is to challenge industry professionals to imagine ways in which we can continually push our understanding of sustainability to a new level, creating a holistic and positive impact that helps our planet and each other – thrive. The Summit comprised over 25 discussion panels, keynotes, critical conversations and interviews, and broadcasted to more than five thousand participants from 57 countries. 
Image Credits: 202030 – The Berlin Fashion Summit
ABOUT & WHY
The summit is a cross-disciplinary platform where avant-garde creatives meet industry stakeholders for constructive critical debates on the future of fashion. The goal is to bridge the gap between existing sustainability innovations and solutions with the industry needs for pragmatic transformation guidelines and to envision tangible new alliances for new value chains for a sustainability-trendsetting future of fashion.
The 2020s are destined to become the decade of global change-making — now the need to transform outdated systems could meet a historic opportunity to combine recovery from the disturbing pandemic with all the benefits of sustainable development. Berlin is thriving to refocus on its roots as the European capital of cultural and creative industries and continues to focus on a sustainable future with a more than ever cross-disciplinary and cultural approach to celebrating fashion and the people involved.
The THIRD Edition
This year's edition was challenged by the turbulent times of pandemic and war that we are living in. However, instead of calling it off, our ambition to make a difference and create a beneficial impact gave us even more strength to move forward with the classes, debates and panels. 
"As much as we are devastated about the war in Ukraine and the endless questions about how to help there and what to feel and do here — we also deeply believe that our work is already more part of the solution than of the problem/s. And as part of a global community of activists, companies, entrepreneurs, organisations and researchers that passionately work towards a sustainable and ideally regenerative fashion industry: #westandwithukraine and believe that peace is the base for all progress and our most common goal.
(…)
So we fully understand if you are not in the mood to listen to or even discuss topics that deal with this 'superficial' fashion industry — but it is also one of the most globalised industries, impacting up to 430 million workers (in fashion and textile production) in mostly the global south as well as billions of consumers in the (mostly) global north. We have decided to not cancel our summit and instead to invest even more in building the connections and knowledge that help enable better life quality for all of us on this one blue planet."                                     
Official Event Announcement
The online format enabled participants from all over the world to join and observe the talks and workshops conducted by a selective list of industry experts, debating:
REGENERATIVE FASHION SYSTEMS – Implement Positive Impact
As part of the Berlin Fashion Week, the edition analysed regenerative mechanisms and fashion systems from a global and local perspective and discussed possible implementation tactics in existing systems. The insightful event offered great learning opportunities for all the attendees and experts involved. For that reason, we've carefully prepared this recap for you. 
The RECAP
The POP UP THINK TANK (Workshops)
As in the previous editions, the 202030 Summit consists of two parts: the POP UP THINK TANK (PUTT) and The Summit. The PUTT has selective access and serves as an open space for constructively-critical debates among experts to prepare the content for the Summit. 
For the workshops, 48 selected experts from industry including research, politics, design and trade, got together to discuss the major topics of the Summit and exchanged interdisciplinary ideas. They happened in three different stages,  exploring relationships and interactions within ecosystems for successful transformation with positive impact:
Workshop #1 – The Global Perspective – and Positive Future Visions:
How might we create fashion that includes repair mechanisms for the planet, people, culture and the economy?
Workshop #2 – Local Perspective – and Anti-Fragility
How might we strengthen local fashion communities, businesses and innovators to strive for a regenerative future?
Workshop #3 – Implementation Guidance – and You
How might we create trust through holistic regenerative quality standards for product, design and production processes?
The workshops were interconnected. Workshop #1 focused on defining the mission & objectives, workshop #2 focused on opportunities & challenges, and finally, workshop #3 focused on outlining actions & roadmap, all points working towards regenerative fashion systems.
Asked for a statement, one of the participants contributed: "We are now far beyond the realms of sustaining life on our planet through anything other than regenerative action. I am still optimistic that together we can find more and better ways to regenerate and replenish our material systems through collective action and innovation." – Kate Goldsworthy | Professor of Circular Design and Innovation at Centre for Circular Design UAL) 
The 202030 Summit
With people joining worldwide through online platforms or on-site (Berlin), the Summit served as the primary professional public part aiming to open up the dialogue to a broader industry audience by offering compact and clear constructive input. On three different days, the experts debated:
Day #1
The Global Perspective
How might we create fashion that includes repair mechanisms for the planet, people, culture, and the economy?
A gripping first day of the Summit defined a new bar of sustainability for fashion, with a strong emphasis on the power of regenerative agriculture. Against this backdrop, contributors tackled how global systems within the fashion industry have the potential to create a positive impact.
Starting with the 202030 Summit Masterclass "Scaling the European Textile Recycling Economy," hosted by the Dutch Embassy in Berlin and the Dutch Ministry for Infrastructure and Water Management (I&W) and moderated by Marte Hentschel, Sqetch CEO. The masterclass welcomed a diverse, multidisciplinary group of 22 Dutch and German representatives of the public sector and industry representatives of the textile sector, from the respective countries. 
From 2025 onwards, the obligation to separate the collection of textiles will apply, which – in all likelihood – will significantly increase the number of used textiles. Germany and the Netherlands are considering implementing "extended producer responsibility" schemes (EPR schemes) to meet this mandatory requirement of the EU Commission. At the same time, the EU textile strategy is expected to make recommendations to increase the share of recycled fibres in new textile products. Thus, there is a surplus supply of raw materials and a political desire to use them. What does not exist on an industrial scale, however, are high-quality recycled fibres that have been tested for harmful substances and sorted accordingly – the processed raw material of a textile circular economy,  which is of reliable quality, available on an industrial scale. 
The objective, therefore, was to explore how this demand can be met, what role government support can play in this and what monetary incentives could be set in such an EPR scheme to facilitate a Circular Economy. In conclusion, the participants from both sectors and countries expressed their willingness to support the governmental and European legislation and mutually called for clear guidelines and measures for the entire industry.
Panel Talk with Sqetch CEO Marte Hentschel – Image Credits: Sqetch
Starting the keynote session, Claire Bergkamp (Textile Exchange) began outlining the "Visions & values for a regenerative fashion system." She notably tackled how current methods of agriculture, particularly monocultures, are the number-one contributor to biodiversity loss. She called for the textile industry to "aid rewilding," and focus on degrowth practices.
This led to a panel discussion on "Regenerative fashion design for the biosphere," and included the voices of Renana Krebs (Algaeing) and Chandra Prakash Jha (Fashion for Biodiversity), moderated by studio MM04's Max Gilgenmann. The panellists found common ground on the need to address materials at their source, to build up integrity in holistic systems. A key focus of this will be the shift away from crude-oil-based polyester, which, Lauren Bright (The Biomimicry Institute) pointed out, has merely been engineered to mimic the qualities that natural fibres already contain.
Larissa Roviezzo and Melissa O de León (Regenerate Fashion), regenerative systems strategist Ricardo Garay, and Safia Minney (Fashion Declares) delivered positioning talks, further emphasizing the importance of healing systems that center the health of the planet.
Next, Friederike von Wedel-Parlow (Beneficial Design Institute) and Marte Hentschel (Sqetch) introduced the Summit's positioning and the findings from the first PUTT, where industry experts collaborated to define the mission statements of regenerative sustainability, in addressing the sectors of product design, ecology, society, government, economy, and culture.
Nazma Akter (Awaj Foundation) and Olivia Stewart (The Industry We Want) got together in a critical discussion: "What's the industry you want?" Nazma presented the theory that change will come from bringing people together to align our efforts and scale our progress, but warned that this will require more than small interventions – "we need policy change and government intervention to create industry transformation at large."
Day's featured best practices:
Finally, the day wrapped up with one more expert panel on "Global networks for positive impact," including Marci Zaroff (ECOfashion), Marian von Rappard (Dawn Denim), and Savanna Browne (Metabolic Institute). Marci attested that healthy soil is one of our most powerful tools in fighting climate change – and what we take from the earth, we need to give back to it. 
Day #2
The Local Perspective
How might we strengthen local fashion communities, businesses and innovators to strive for a regenerative future?
Day two was built on the previous day's call to action and reimaginings of better fashion industry. The guests investigated local approaches to regenerative fashion, deepening our understanding of the new sustainability status quo.
The second Masterclass "Creating a New Circular Design Economy" was hosted by Zalando, and facilitated by Sqetch and circular.fashion. It was composed of a multidisciplinary group of fifteen representatives of the Berlin Circular Fashion and Digital Fashion ecosystems, entrepreneurs, designers and pioneers. 
The scope of this masterclass involved redesigning society with a post-pandemic vision that considers the role of fashion as a creative discipline and economic sector. This includes the acceleration of digitalisation and the circular economy on a large scale. It also comprehends a range of solutions such as products designed from safe, recycled, renewable inputs, with longevity, and designed to be recycled, adaptive fashion, digital twins and beyond, which can further develop into fashion as a cultural force for good. It aimed to provide insights into the intersection of Circular Design and Digital Fashion, where invited participants would discuss strategies and concepts that can open up future prospects for Berlin as a fashion location and serve as terrain for experimentation and trial.
Masterclass "Creating a New Circular Design Economy  – Image Credits: 202030 – The Berlin Fashion Summit
The panel session started with Kristine Harper, author and creator of The Immaterialist podcast, discussing the concept of her book "Anti-trend." She called for worldwide openness to change, and for producers to listen to the land of a given region. The second keynote came from Daniel Rüben (Kornit Digital), "Technology driving local production on demand." Kornit is pioneering on-demand garment printing, to aid fashion's problem of overproduction.
In a presentation by the DBU (The German Federal Environmental Foundation) and their head of unit resource management Dr Volker Berding, Ina Budde (circular.fashion), Marte Hentschel, Dr Martin Lades (Assyst) showcased German sustainable textile innovation. The experts offered strategies and tools for harmonising and streamlining standards, building circular supply chains, and scaling the use of digital fitting systems.
Professor Friederike von Wedel-Parlow spoke with Dr Clemens Bisjak (Lenzing) on how to empower the future generation of scientists. Next Autumn, Dr Bisjak will present the Young Scientist Award, which celebrates graduating students who are innovating in the fashion and textile industry. His words to young innovators: "Stay curious, believe in what you are doing – it's worth it."
Industry leaders were asked to share their positioning on local regenerative systems. With input from Arianna Nicoletti and Alessandra-Isabel Hager (A-Gain Guide), Doris Schoger (Rebound Stuff), Kevin Thiong'o (Enviu), and Niccy Kol and Sanne van den Dungen (Raddis Cotton), we heard compelling advocacy for uplifting urban craft culture, refurbishing post-consumer textiles within Germany, upcycling post-production textile waste, and aiding cotton farmers in India in the shift to regenerative, multi-crop agriculture as the first step in holistic sustainability.
Following the discussion, industry experts developed concrete strategies to bring the regenerative sustainability mission statements to life, with specific attention to local ecosystems. These strategies are the second phase in giving feedback to the EU Textile Strategy to strengthen sustainability efforts.
The day continued with a critical conversation between Aras Baskauskas (Christy Dawn) and Nishanth Chopra (Oshadi Collective) on how regenerative agriculture can have a beneficial impact on fashion, moderated by Geraldine de Bastion (Global Innovation Gathering). They explored the ways in which 'regen fashion' goes beyond just farming, but must create reciprocity across the supply chain. In other words, regenerative practices are all about relationships.
Fashion Open Studio Berlin's Tamsin Blanchard hosted the next panel with Annika Brix (Oracelle), fashion and retail expert Julian Daynov, and Orsola de Castro (Fashion Revolution) to address the topic, "Power – who's in local control?" Annika stated, "It should be a creative decision to be sustainable," bouncing off Julian's point that fashion conglomerates do not consult designers in decision-making. Orsola challenged the word  'power,' so that we can move beyond our current culture of individualism.
Day's featured best practices:
Montreet | Positive Fibers | Oshadi Collective | Proservation
The final panel discussed 'Local impact is global impact,' featuring Ana Tavares of (CITIVE), Kevin Thiong'o (Enviu), Magdalena Schaffrin (studioMM04) and Robert Meeder (EU Cultural Platform and Selyn Textiles). Our guests compared the local economies and ecosystems of Germany, Portugal, Kenya, and Sri Lanka, and discussed how to build equity between the global north and south. This final input concluded the call for planet-wide systems reform through regenerative thinking.
Day #3
Implementation Guidance
How might we create trust through holistic regenerative quality standards for product, design and production processes?
On the third and final day, industry leaders gathered to discuss how regenerative sustainability can enter fashion systems, transforming how the industry operates – for good.
The day began with 'sustainability provocateur' Lavinia Muth's keynote presentation, "A new "organic" — a call for a regenerative circular economy." She advocated for merging indigenous knowledge with modern technology and innovation, that it can lead us to a holistic path forward, and encouraged us to look for nuanced causes and effects, embrace humility and openness, and focus on restoration.
This was followed by Christian Dietrich's keynote (sfeeri), "Measuring and acting on corporate biodiversity impact." Christian laid out the human impact on our planetary boundaries, and specifically on the complex puzzle of preventing further species loss. We then moved into a critical conversation between Luke Haverhals (Natural Fiber Welding) and Veronica Bates Kassatly, an independent analyst. They discussed "Bridging the data gap — how we might implement positive impact," addressing the problem of the lack of accurate, comprehensive data on industry impact. Veronica stated that we don't just have a data gap – we have a data "black hole." And with the misuse of data, how can companies claim to offer transparency?
Are you as fascinated by virtual fashion as we are? In a panel, Max Gilgenmann hosted Dio Kurazawa (The Bear Scouts), Kim Berndt (Studio.fbx), and Madeleine Parker (Newlife.ai) in the conversation, "All meta? — defining sustainability, virtual fashion and NFTs." Virtual fashion offers liberation from the laws of gravity and the boundaries of a textile's functions – and with no material waste from prototyping or production. This realm holds possibilities for new business models, including renting and trading, as well as new avenues for co-creation.
Marte Hentschel and Professor Friederike presented the findings of the third PUTT. Two weeks ago, our roster of industry experts and critical thinkers developed missions and strategies of regenerative sustainability, and then co-developed roadmaps for implementation.
Afterwards, Prof. Dilys Williams (Centre for Sustainable Fashion) at the London College of Fashion delivered the keynote, "Fashion otherwise." She presented her guidebook for developing sustainable prosperity in culture, society, environment and economy. "We need a shift in consciousness, not a commodification of what has come before." Amid this change, she positioned fashion as a powerful mediator of change. On the next panel, "Bridging the consumer transparency gap," we welcomed Kathy Kearns (Good On You) and Salah Said (Klarna). The two companies work together to provide consumers with the data on the impact of their purchase: Good On You enables a more sustainable purchase decision, and Klarna provides their global platform to influence millions of consumers. Both representatives emphasised the importance of community in creating a shift in consumer culture.
Marte Hentschel hosted presentations from Dieter Stellmach of the German Institutes of Textile and Fiber Research Denkendorf and Professor Rebecca Earley from the Centre for Circular Design at the University of the Arts London, covering the topic "European circular textiles research & development – best practice initiatives." The participants gave an introduction to projects in which Sqetch plays a fundamental role: HEREWEAR and TRICK. Dieter Stellmach gave a short introduction to TRICK's objective: the development of a data collection platform that includes six Sustainability Assessment services, secured by Blockchain. Prof. Rebecca Earley, in turn,  highlighted HEREWEAR emphasising its main aspects and achievement aspirations.
Day's featured best practices:
ASKET | Neo Marche | TEKYN
The final panel discussed, "EU textile strategy – a Dutch-German perspective." The panellists were Ingo Strube (German Federal Ministry for the Environment, Nature Conservation, Nuclear Safety and Consumer Protectio), Ingrid Elbertse (Fair Wear Foundation), Marije Slump (Dutch Ministry of Infrastructure and Water Management – Environment Directorate), and Dr Rüdiger Fox (Sympatex Technologies). Together, they unpacked the current decisions that European governmental bodies face in the transition to circularity. In the EU long-term plan, all textiles on the European market will be held to a new standard, with end-of-life recycling taken into account. The panellists picked up on a common thread of the day, radical transparency, but cautioned that the fragmentation of linear supply chains, along with social inequalities, remains the most complex challenge to tackle. With the changes going into effect in the near future, our guests underscored the urgency for companies to begin their transition to compliance now. Despite obstacles and open questions on the best path forward, the Dutch and German governments remain at the forefront of global change.
& MORE!
Stay Tuned:
Visit the 202030 – The Berlin Fashion Summit website to have access to all the news and media resources about the latest edition. Subscribe to the Summit newsletter here to be informed of all of the upcoming events. 
Follow the Event:
202030 – The Berlin Fashion Summit is organised by studio MM04 in cooperation with Sqetch and the Beneficial Design Institute. Press MÜLLER PR & CONSULTING. Funded by the Senate Department for Economics, Energy and Public Enterprises Berlin. Partner with Berlin Fashion Week. 
Sponsored by Bundesministerium für Umwelt, Naturschutz, nukleare Sicherheit und Verbraucherschutz, Blauer Engel, Government of the Netherlands, Kornit Digital, Zalando & Klarna
Source:
*This article is an adaptation of the content provided by the official event organiser. 
---